Well folks, the day's here. The day when Indians celebrate the home-coming of Rama to Ayodhya after 14 years of exile. On this special day, Rama returns with his brother Lakshmana and his wife, Sita.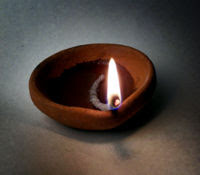 Divali/Deepawali is known as the Festival of Light, whereby Diyas are lit to symbolically mark a path for Rama to follow. It is believed that the more light there is, the better it is. Divali also symbolizes the victory of good upon evil, the victory of light upon darkness. Darkness symbolises fear and ignorance, whereas light symbolises courage and wisdom.
Divali is also about celebration, and sharing the joys of victory. In this light (no pun!), sweets of various kinds and tastes are shared among friends, family and relatives.
On this, I leave you to your celebrations.
8 comments: